Antony Walker
(back to Members)

Antony Walker studied composition, cello, voice and conducting at the University of Sydney. While still a student, he was invited to conduct the Sydney Symphony and the Melbourne Symphony and was part of the Australian Opera Young Artists Program. He also established the Contemporary Singers, who under his direction premiered many new Australian works. Soon after graduation, at the age of 22, he became Musical Director of Sydney Philharmonia Choirs where over the next five years he prepared and conducted many large-scale works including Mendelssohn's Elijah, Mozart's Requiem, Bach's Mass in B Minor and St Matthew Passion and Britten's War Requiem.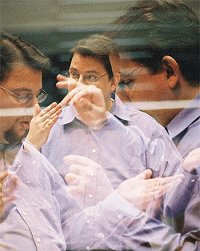 In 1997 Antony Walker moved to London and was offered a position as Chorusmaster and staff conductor at the Welsh National Opera where he conducted, among others, Queen of Spades, Madame Butterfly, Carmen, Rigoletto and La Traviata. He became a regular visitor to the USA and worked at Wolftrap Opera and with the opera companies in Minnesota and Cincinnati.

In 2001 with Alison Johnston he formed the professional chorus Cantillation and the chamber orchestras Sinfonia Australis and Orchestra of the Antipodes, all of which have since made numerous recordings for ABC Classics. Two recent recording projects, Handel's Messiah and the Beethoven Piano Concertos have been released on CD and DVD.
In 2002 Antony was appointed Artistic Director and Conductor of Washington Concert Opera in Washington DC, and divides his time between commitments in Washington, work in Australia and other guest assignments.
In 2003 Antony Walker conducted the North American premiere of The Handmaid's Tale for Minnesota Opera, Rameau's Dardanus for Wolf Trap Opera, Béatrice et Bénédict and Stiffelio for Washington Concert Opera and several performances at the Barossa International Festival. CDs released in 2003 included the ARIA nominated complete Beethoven Piano concertos, the Pinchgut production of Handel's Semele, a disc of masterpieces of the Renaissance and the best seller Bach arias & duets with Sara Macliver and Sally-Anne Russell (also nominated for an ARIA award).
In 2004 Antony made his debut with Hawaii Theatre Opera (Cosi fan tutte), Pittsburg Opera (Il Ritorno d'Ulisse) and the Sugar Creek Festival (Roméo and Juliette) as well as continuing his work with Washington Concert Opera (Roberto Devereux and La Donna del Lago), Cantillation, Sinfonia Australis, Minnesota Opera (Madame Butterfly) and Pinchgut Opera (Orfeo). Recordings included works by Pergolesi and Ross Edwards, a CD of Christmas carols, a disc with Teddy Tahu Rhodes which was the 2004 ARIA award winner for Best Classical album and Purcell's The Fairy Queen.
In 2005 Antony conducted Nixon in China for Minnesota Opera, Handel's Orlando for New York City Opera, Esclarmonde and Luisa Miller for Washington Concert Opera, Cenerentola for Sugar Creek Festival, Dardanus for Pinchgut Opera, and CDs of Monteverdi's Orfeo, folksongs of Australia and the world, and the chamber music of Elliott Gyger.

Click here for Antony Walker's personal website.


| Front Page | Biography | Recordings | Reviews | Contact & Links |